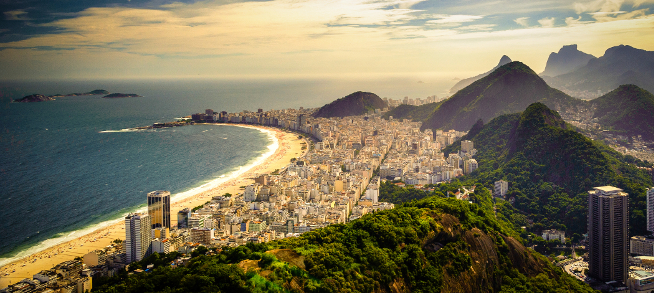 Rio De Janeiro Cruises
Ask anyone to name a destination within Brazil and chances are that Rio de Janeiro would feature highly on the list.

The second largest city in the country has long been a popular choice with foreign visitors, including those who are enjoying a cruise around the South American coast.

The vibrant and colourful city is unlike any other on earth, covering a wide area that includes everything from busy and bustling streets to one of the world's largest urban forests and a beach that is famous all over the globe.

Such is the sheer size of Rio de Janeiro, you'll be spoilt for choice when it comes to what to do while you are docked in the city; with the options being pretty much endless.

Arguably the most famous landmark in the city is to be found with a visit to Corcovado Mountain, which is home to the giant statue of Christ the Redeemer.

As well as getting up close to the imposing figure, you'll be able to take in the most astonishing aerial view of the city below, whilst also exploring the delights of the surrounding Tijuca Forest – one of the largest urban forests in the world.

Further panoramic views of the city can be enjoyed on a visit to Sugarloaf Mountain, with the journey to the summit by cable car being a picturesque voyage in itself.

From the summit of either mountain, you'll be able to see the many beaches for which Rio is also famed, with the white sands of the Copacabana being the most well known.

Amongst the historic buildings worthy of a visit are the Theatro Municipal, the Biblioteca National and the Paço Imperial, while the Maracanã Stadium – previously the largest stadium in the world by capacity - is something of a mecca for sports fans.

With the opportunity to be entertained at every turn, there is no doubt that a stop at Rio de Janeiro will be the highlight of any Brazilian cruise – with the sound of samba rhythms and the warm hospitality of the locals sure to live long in the memory.