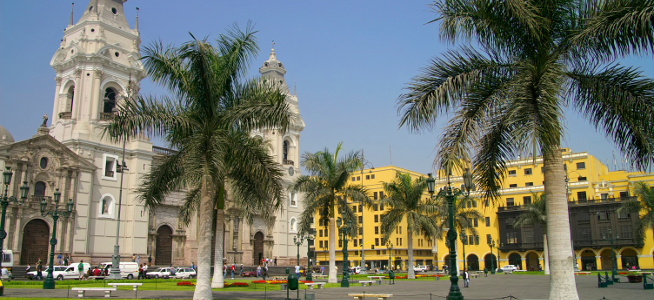 Peru Cruises
Located on the western coast of South America, Peru is a diverse nation that combines coastal regions with some of the highest peaks to be found anywhere in the continent.

Those on a cruise around Peru will visit a number of destinations during the course of their trip, including the capital Lima; known as the City of the Kings since its formation in the 1500s.

The historic centre of the city has been designated as a UNESCO World Heritage Site and is home to many of the top attractions for tourists, such as the San Francisco Monastery and the Plaza Mayor; where you'll find a number of architecturally important buildings like the Government Palace and the Cathedral of Lima.

As well as touring the city, you can head for the markets in search of a bargain, explore ruins dating back to the Inca Empire at nearby Pachacamac or visit the Parc de la Reserva to check out the Magic Water Circuit, a world record breaking water display combining light and sounds from no fewer than 13 different fountains.

Ships heading for Lima dock in the nearby port of Callao, where there is the chance to explore the fort that was built in order to defend the city from pirates in the 18th century and to marvel at further examples of Peru's historic architecture.

Away from Lima, the port of San Martin opens up the opportunity to visit the small town of Pisco.

From here, a boat ride will take you to the marine wildlife sanctuary at Islas Ballestras, where there is the opportunity to witness sea lions at play around the small collection of islands.