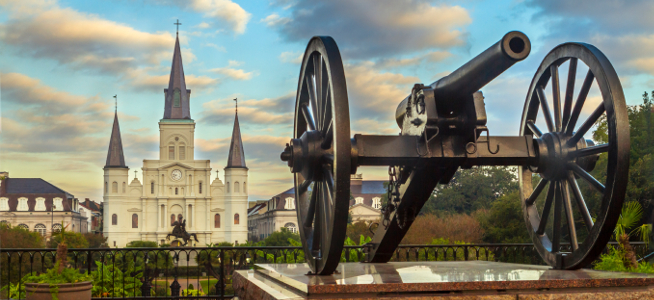 Cruises from New Orleans
The largest city in the State of Louisiana, New Orleans is a popular destination for those enjoying a cruise around the United States and the Gulf of Mexico.

A vibrant and colourful city, New Orleans is packed with things to see and do – and is home to a number of festivals every year that are well worth exploring.

As one of the USA's largest ports, New Orleans has long been popular with cruise visitors and the modern day city is no exception.

Historic architecture can be found at every turn, whilst lovers of culture, fine cuisine, shopping and music – most notably jazz – will welcome the opportunity to explore everything that the coastal city has to offer.

While a mixture of cultures come together within the city, the impact of the French is perhaps what New Orleans is most well known for, with the French Quarter being one of the most popular destinations for those visiting the city.

As well as marvelling at the French architecture, there is the chance to explore the Historic New Orleans Collection – which includes a number of exhibitions and guided tours that help tell the story of both New Orleans and the surrounding area.

The French Quarter is also home to the famous Bourbon Street bars, the New Orleans Mint and St Louis Cathedral, while heading out onto the Mississippi River that runs alongside the quarter provides the chance to embark on a trip onboard an authentic old steamboat.

Alongside countless bars, cafes and restaurants, New Orleans is home to a number of boutique stores and markets, with the region around Magazine Street in particular being worth a visit.

The National World War II Museum should also feature on the to-do list, as should the huge City Park, where a range of activities are offered.

With so much to see and do, the fun in New Orleans comes from fitting everything in.