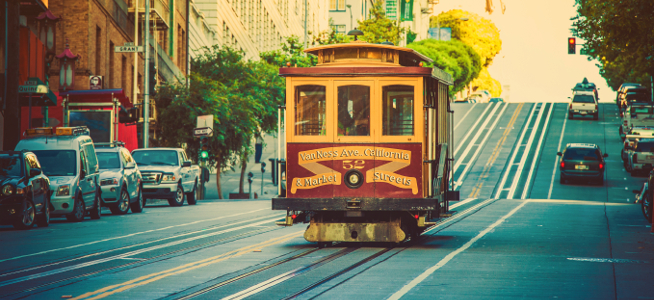 Cruises from San Francisco
One of the most colourful and cosmopolitan cities in the United States, San Francisco is a must-see destination for those who are enjoying a cruise up America's western coast.

From the moment that the iconic Golden Gate Bridge comes into view, San Francisco is a city that will delight all those who visit, with the vibrant and friendly atmosphere that awaits helping to create a unique cruise experience.

As with many of the major American cities, the opportunities are almost endless when it comes to things to do when you disembark in the city.

Travellers can head for Union Square to sample some of the best shopping in the city before moving on to the grand mansions on Nob Hill or to the historic French quarter.

If you want to head out and explore the wider San Francisco, there can be few better ways than to board the famous old cable cars that climb the steep gradients of the city streets, and provide a unique opportunity to see everything that the 'City by the Bay' has to offer.

The largest Chinatown outside of Asia is one of the top attractions within the city, while Fisherman's Wharf and Pier 39 are also well visited. Here, travellers can visit shops and restaurants, and also visit the colony of sea lions that have called the pier home for more than 20 years.

No cruise to San Francisco would be complete without taking a trip out into the Bay; providing the chance to head for Angel Island or to visit the infamous prison of Alcatraz.