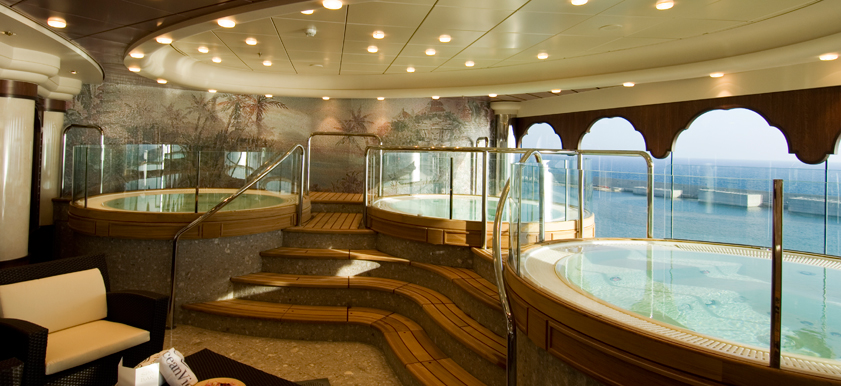 15nts

Taiwan & Philippines from

£2,649pp
Cruise Line Ship
Azamara Quest
Itinerary
Fly from the UK to Hong Kong and stay 1 night • Board ship & sail to Taipei, Taiwan • Hualien, Taiwan • Kaohsiung, Taiwan • Coron, Philippines • Boracay, Philippines • Manila ( overnight in port ), Philippines • Hong Kong (overnight in port ) • Fly to the UK
Highlights
Hong Kong hotel stay
Complimentary AzAmazing Evening
Pre Paid Gratuities
Select standard spirts, beers & wines
12nts

Caribbean Sunny Charms from

£2,299pp
Cruise Line Ship
Oceania Riviera
Itinerary
Fly from the UK to Miami and stay 1 night • Board ship & set sail to Great Stirrup Cay, Bahamas • San Juan, Puerto Rico • St.Maarten • Antigua • St Lucia • St Barts • Miami • Fly to the UK
Highlights
5* Miami Hotel stay
FREE House select beverage package
FREE Pre-Paid Gratuities
FREE $75 per person on board credit
Direct flights London Heathrow to Miami
Oceanview
Veranda
Concierge Veranda
19nts

Sri Lanka & India from

£3,199pp
Cruise Line Ship
Azamara Quest
Itinerary
Fly from the UK to Singapore and stay 1 night • Board ship & sail to Sabang, Indonesia • Hambantota, Sri Lanka • Colombo, Sri Lanka, overnight in port • Cochin , India overnight in port • Mumbai, Bombay overnight in port • Muscat, Oman • Dubai overnight in port • Fly to the UK
Highlights
5* Singapore hotel Stay
Return International flights
Includes Complimentary AzAmazing Evenings
Pre Paid Gratuities
Selected drinks package
Inside
Oceanview
Verandah
12nts

Canaries & Cathedrals from

£2,789pp
Cruise Line Ship
Oceania Sirena
Itinerary
Fly from the UK to Barcelona and board Oceania Sirena • Set sail to Alicante • Granada • Lanzarote • Tenerife • Gran Canaria • Tangier, Morocco • Cartagena • Monte Carlo • Rome • Fly to the UK
Highlights
Direct flights
Private transfers
FREE House Select Beverage Package
FREE Pre Paid Gratuities
FREE $300 per person On Board Credit
FREE 3 Shore Excursions
16nts

Burma & Malaysia from

£2,789pp
Cruise Line Ship
Azamara Quest
Itinerary
Fly from the UK to Singapore & stay 2 nights • Board ship & sail to Phuket, overnight in port • Yangon, Myanmar 3 days in port on board • Penang, Malaysia • Port Kelang, Kuala Lumpur • Singapore • Fly to the UK
Highlights
2 nights 5* Hotel Singapore stay
12 nights Full Board Cruise
Includes Complimentary AzAmazing Evenings
PRE PAID Gratuities
Select standard spirits, beers & wines,
10nts

Artisans & Explorers from

£2,599pp
Cruise Line Ship
Oceania Sirena
Itinerary
Fly from the UK to Lisbon and Board the Oceania Sirena • Set sail to Portimao • Seville, overnight in port on board • Palma • Barcelona • Saint-Tropez • Monte Carlo • Porto Santo Stefano • Rome • Fly to the UK
Highlights
Includes house select beverage package
Pre paid gratuities
$300 OBC pp
3 Free Shore excursions
Luxury Cruises
If you're planning a trip of a lifetime, a luxury cruise may be the perfect way to make the most of the destinations you'd like to visit. Luxury cruises provide a great balance between top-quality facilities, services, destinations and experiences, so take a look through the adventures on offer and start planning your dream getaway.

If experiencing new cultures is what you're after, a tour of the South Pacific may be for you. Travel with Cunard and spot the whales, experience the Samoan way of life, before sailing on to explore the beautiful scenery in Thailand and Vietnam. Or maybe a tour of the Bahamas with MSC Cruises would be more your style, where you can revel in the sandy beaches or explore the beautiful coral reefs before heading into town to experience a culture like no other.

With a luxury cruise, you can really tailor your holiday to suit your style. Once you've made your selection of destinations, on a luxury cruise you can expect to be wined and dined to an exceptional standard. Sample food from around the world cooked by award-winning chefs, head to the spa for an afternoon of pampering, or hit the gym for a holiday workout, all on board some of the finest cruise liners ever made.

From Caribbean adventures and tour around the Mediterranean to far-flung excursions to the Far East, luxury cruises visit a vast array of locations and may span from just a few days to full months. Ideal for honeymoons, anniversaries, romantic getaways, family excursions and more, heading off on a luxury cruise is a great way to celebrate an occasion, or simply take break from everyday living.